Former Associated Press newsman Dan Schlossberg is the author of 35 baseball books, including The 300 Club: Have We Seen the Last of Baseball's 300-Game Winners and Designated Hebrew: the Ron Blomberg Story. He hosts Thursday night podcasts on baseball — called Braves Banter — and travel (Travel Itch Radio) and is a frequent speaker on baseball.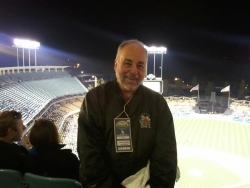 Dan has created and coordinated 24 previous baseball theme cruises, including several aboard the Mississippi Queen. Dan's next book, due later this year, is Nothing to Hide: My Journey from the Big Leagues to the Big House, written with former umpire Al Clark.
Dan is a native of the Bronx and was raised in Passaic, N.J. He resides in northern North Jersey.